Title:

On The Fence


Author: Kasie West
Publication: HarperTeen | July 1, 2014
Genres: Contemporary, Romance, Young Adult
Source: Netgalley
Goodreads • Amazon • Barnes & Noble

She's a tomboy. He's the boy next door…



Charlie Reynolds can outrun, outscore, and outwit every boy she knows. But when it comes to being a girl, Charlie doesn't know the first thing about anything. So when she starts working at a chichi boutique to pay off a speeding ticket, she finds herself in a strange new world. To cope with the stress of her new reality, Charlie takes to spending nights chatting with her neighbor Braden through the fence between their yards. As she grows to depend on their nightly Fence Chats, she realizes she's got a bigger problem than speeding tickets-she's falling for Braden. She knows what it means to go for the win, but if spilling her secret means losing him for good, the stakes just got too high.

Fun, original, and endearing, On the Fence is a romantic comedy about finding yourself and finding love where you least expect.
On The Fence
was a decent enough read, it didn't leave any lasting impression like West's debut,
The Distance Between Us
, but for a quick summer book, it was enjoyable. The story was more about growing up in a male dominant family and figuring out your feminine side without changing yourself completely, rather than a full on romance like the cover suggested, which I had no issue with. Charlie was an okay narrative, her being a tomboy and a sports enthusiast made it very hard for me to relate with her. Apart from her self exploration journey, I wasn't really into her story, hence I ended up skipping a lot of this book, the fence scenes mostly.
I Loved:
Charlie's 3 brothers, Nathan, Jerom and Gage, and their silly little bets. This trio was utterly hilarious and undoubtedly, the best part about this book!
I Was OKay With:
Charlie and her new girly side.
I Didn't Like:
Everything else, especially the romance. There were no feels whatsoever! On another note: Authors, please don't name your character the same as someone who's already super famous in the book world. I couldn't care less about this Braden when I had a sexy Braden Carmichael on my mind everything this name was mentioned in this book. It was so distracting! Also, this Braden's personality wasn't that captivating.
On The Fence
was not as good as I was expecting, but I love Kasie West and regardless, I will still be her loyal reader and countdown to her next book.
Well, this started as a mini review, but I couldn't control my rant. Sorry.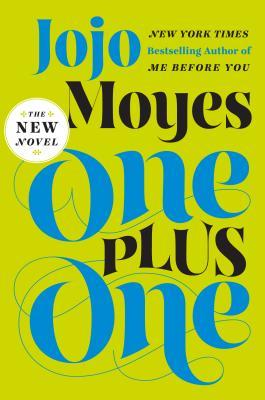 Title
: One Plus One
Author
:
Jojo Moyes
Publication
: Pamela Dorman Books | July 1, 2014
Genre
: Contemporary, Romance, Adult
Source
: Netgalley
Goodreads
|
Amazon
|
B&N
One single mom. One chaotic family. One quirky stranger. One irresistible love story from the New York Times bestselling author of Me Before You

American audiences have fallen in love with Jojo Moyes. Ever since she debuted stateside, she has captivated readers and reviewers alike, and hit the New York Times bestseller list with the word-of-mouth sensation, Me Before You. Now, with One Plus One, she's written another contemporary opposites-attract love story that reads like a modern-day Two for the Road.

Suppose your life sucks. A lot. Your husband has done a vanishing act, your teenage stepson is being bullied and your math whiz daughter has a once-in-a-lifetime opportunity that you can't afford to pay for. That's Jess's life in a nutshell—until an unexpected knight-in-shining-armor offers to rescue them. Only Jess's knight turns out to be Geeky Ed, the obnoxious tech millionaire whose vacation home she happens to clean. But Ed has big problems of his own, and driving the dysfunctional family to the Math Olympiad feels like his first unselfish act in ages . . . maybe ever.

One Plus One is Jojo Moyes at her astounding best. You'll laugh, you'll weep, and when you flip the last page, you'll want to start all over again.
As my first Jojo Moyes book,
One Plus One
was a good read, but I failed to see the reason behind the hype. The writing was beautiful, the multiple perspectives was a nice touch and gave the story a whole feeling, but as for the story itself, it wasn't anything exceptionally brilliant or heartwarming. I enjoyed it for the most parts, the kids sections being my favorite because I related to them the most, but other than that, I wasn't happy with Ed's side of the story and Jess' was more in the middle, neither good nor bad. Maybe I need to read Jojo's better known work,
Me Before You
to fully understand her popularity in the literary world.
Jess is a single, struggling mom to her two kids, goth teenager, Nicky and Math prodigy, Tanzie. The father of these kids is pretty much useless, but Jess being a really nice, optimistic person, is soft on the guy and doesn't pressure him for child support. Money is tight in this family and I loved how the author showed the rawness of the struggles so accurately. I've been there, I get it, it's real but at the same time it's very depressing to read and I'm not sure if this was what I signed up for when I started this book. Also, I had major issues with one of the main characters, Ed. He is possibly the most stupidest person I've ever read about. At first, Ed made a terrible mistake, which I don't even want to call mistake because that was just careless on his part. I can't even wrap my mind around the "thing" he did, why do men always think with their dicks?!? Idiots! I would expect that Ed would learn a lesson from his "mistake", if that's what we're calling it and shut his mouth when it comes to women, but after a few days of road tripping with Jess and her family, there he goes blasting everything about his super secret case to stranger practically! WHY WOULD YOU DO THAT?!? MAKES NO DAMN SENSE!
Coming on the romance, I don't even know when that happened. Jess and Ed were having a really nice dinner one evening where suddenly Jess realizes that "Gosh, she really likes that man, and YOLO, wants to have sex with him". She really thought YOLO before proposing Ed for the one night stand. That was when I knew that this book wasn't going to be anything special for me. I read it for the kids and I'm glad that atleast there story was consistent and very inspiring. Seeing Nicky overcome his fears and share his thoughts with someone for the first time made me very emotional. I like that boy a lot. All in all,
One Plus One
gave me a glimpse into the Jojo Moyes writing world and I liked it. This might not be the book for me, but I'm very excited to read more from the author.
Read More...