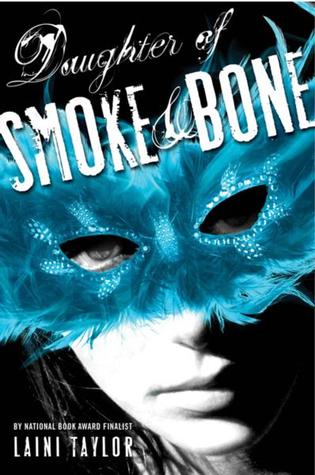 Title
: Daughter of Smoke & Bone
Author
:
Laini Taylor
Published
: Little, Brown Books for Young Readers | Sept 2011
Genre
: Fantasy, Romance, Young Adult
Source
: Bought
Series
: Daughter of Smoke & Bone #1
Goodreads
|
Amazon
|
Book Depository
Around the world, black handprints are appearing on doorways, scorched there by winged strangers who have crept through a slit in the sky.

In a dark and dusty shop, a devil's supply of human teeth grows dangerously low.

And in the tangled lanes of Prague, a young art student is about to be caught up in a brutal otherwordly war.

Meet Karou. She fills her sketchbooks with monsters that may or may not be real, she's prone to disappearing on mysterious "errands", she speaks many languages - not all of them human - and her bright blue hair actually grows out of her head that color. Who is she? That is the question that haunts her, and she's about to find out.

When beautiful, haunted Akiva fixes fiery eyes on her in an alley in Marrakesh, the result is blood and starlight, secrets unveiled, and a star-crossed love whose roots drink deep of a violent past. But will Karou live to regret learning the truth about herself?
Daughter of Smoke & Bone
is divided in 3 parts and that's how I'm going to review it because as you can guess, this wasn't an over the top great read for me like I hoped. Prepare for some hate as I'm already dreading writing this review. Either ways, here we go:
The First Part - 5 stars
Excellent beginning! If I could live a character's life, I would want to be Karou! The air was mystery around her at all times was what made her so special and intriguing. Karou seems like a pretty normal art student, living in Prague who loves to draw out-of-the-world creatures with intricate backstories and has an amazing best friend who's always there for her and doesn't ask any questions. Karou has a pretty spectacular life, as a reader, this was the perfect mix of fiction and reality. Until we find out that her life is so much different that we ever expected and by different I mean a 100 times awesome!
Daughter of Smoke & Bone
has one of the best beginning in a fantasy and it made me feel that this could possibly be a 5 star read.
The Second Part - 3.5 stars
This was where Akiva, the possible love interest was introduced (technically it was a few pages before that, but same thing) and initially I was very captivated by his presence. He's an angel! Slightly overrated but interesting nonetheless. The first meeting between Karou and Akiva gave me hope that theirs would be a spicy romance with a lot of tension and secrets, and while that bit did turn to be true, I wasn't very happy with the story. The main reason for that could be my excessive hatred towards Akiva. What a bland character! Someone who was so eye catching in the beginning turned out to be such a p**** whipped (Sorry for the language) character throughout the story. What the hell! I couldn't even take him seriously as a person, let alone a love interest. The only reason I cared for his part in this book was because he knew Karou's backstory and I, alongside Karou, wanted to know what that was. Karou is a badass character and it's sad to see her fall for someone like "Akiva".
The Third Part - 1 stars
Oh Flashback, kill me! This part was pure torture! It took me more than a week to read through 50 or so pages of this, I was even thinking for dropping this book, but I had already bought the second book and planned a readalong with Janhvi, so I knew I had to finish it. It was not fun. The last quarter of this book was just filled with boring flashbacks from Karou's life and I get the importance of them to the present story, but damn it was unbearable! Though one good thing from that was the amount of pagetime Brimstone got!!! I love this cold hearted, loyal character! I'm praying that we get to see more of him in the next book because he's my absolute favorite character in this book (after Karou ofcurse!).
Since the last, disappointing part was just flashbacks and it gives me the impression that we're done with that, I don't see any harm in reading the second book. I just wish Akiva would die though. One can hope. In conclusion,
Daughter of Smoke & Bone
is a mediocre read with not so impressive and might I add, confused world, but the main character is amazing and I want to read the entire series just for her. This was not a good start, but I've heard that it gets better in the second book, so here's me hoping that we get a slightly positive review the next time I write about this series.